THE GALLERY
The Gallery is available all year long for indoor/outdoor events with roll down curtains and dedicated heating. A versatile space, it can seat 20 for dinner at our candlelit Tuscan table and adjoining Mosaic Bar or can be completely reset for larger parties, cocktail receptions, lectures, workshops and business meetings. Overlooking the Pavilion, Courtyard, and Hotel & Marina Decks, the Gallery can be combined with these spaces for larger events in various combinations throughout the year.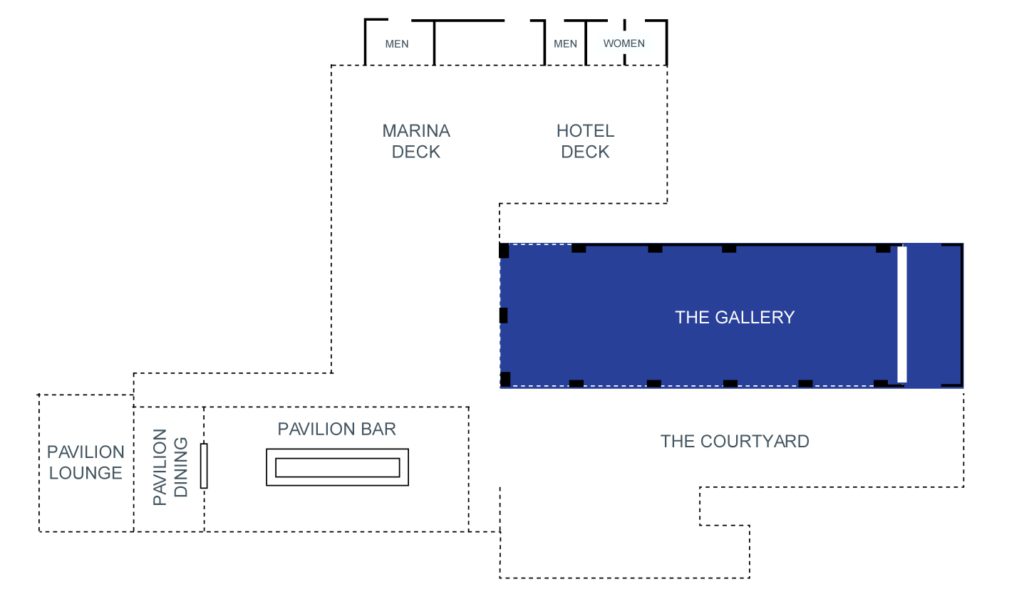 THE GALLERY, GROUND FLOOR OF HOTEL & OUTDOOR SPACES  DOWNLOAD PDF
THE GALLERY:
AREA
• 2400 Square Feet
CAPACITY
• 160 Banquet Style
• 323 Reception Style
GALLERY & COURTYARD:
AREA
• 4600 Square Feet
CAPACITY
• 280 Banquet Style
• 523 Reception Style
Please enter an Access Token on the Instagram Feed plugin Settings page.